Office Design
Simple But Powerful Space Management Tips
5 Ways to Increase the Efficiency of Your Space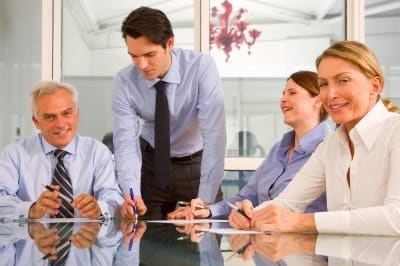 In ABC's short-lived sitcom Better Off Ted, workers are occasionally sent to "the ridiculously tiny office" as punishment for bad behavior. The office is essentially a closet, where a desk takes up most of the room. If more than one person is in the office, they have to play a human version of Tetris, squeezing past one another or climbing over the desk to get from one spot to another. If this sounds like a more extreme version of your office, the following tips can help you manage your space so that it's productive, pleasant and not ridiculously tiny.
1. Purchase All-in-One Printers
How much space do your copiers, printers and fax machines take? The answer is probably more than they should. Consider purchasing all-in-one-printers. You'll have more room, plus you will no longer have to keep track of different parts and details for different devices. To avoid backlog when one person needs to copy something and another needs to fax a document, consider purchasing several all-in-ones for each floor.
2. Put Your Files in a Cloud
File cabinets also use an enormous amount of space. They're also slowly becoming outdated, as virtual storage becomes more and more commonplace. Instead of storing files that you may not even need in one large filing cabinet, consider the many cloud storage options available. Your coworkers can save time by simply searching for the necessary data from the convenience of their computers, and the office will have that much more space for other, more useful items.
3. Rethink the Office Design
Your office design can also affect how large or small a room appears to be. Design firm Henriksen/Butler writes that a few key elements will make your office appear larger. First is wall-to-wall flooring, which creates an appearance of spaciousness that "rugs or boxed-off flooring design" doesn't. Second is furniture placement. Turning a desk 45 degrees to the right might just open up the space around it, making it easier for workers to move through the area. Third of course, is the ever-popular open-office layout, which does not use as much real estate as the usual cubicle layout.
4. Consolidate Meeting Spaces
How often do people file into a conference room that's bigger than what they really need? While you don't want your coworkers to be crammed together, it's possible to find a happy medium between using too much space and not having enough. For quick meetings, Mike Michalowicz suggests having groups gather around the water cooler for a "standing-room-only" gathering. According to Michalowicz, workers are more productive when they're standing up, so these meetings can be a boon for productivity.
5. Group People Strategically
 It makes little sense to have a direct report sit far away from his or her superior. Without that proximity, the employees' communication can get lost in translation. How does communication flow in your office between departments? Could placing people differently improve overall performance?  Yes, moving people around could be a lot of work—but the end result might just be worth all of the effort.
In addition to these techniques, the right FM software can also help you maximize your space use. OfficeSpace, for example, generates reports that let you see the occupancy rates of each floor. With this information, you can see whether you need to move people around, downsize a floor or start looking for another office altogether. In other words, you'll have one less thing to worry about; OfficeSpace will take care of all your space management needs. 
Image Credit: freedigitalphotos.net/Ambro