Corporate Culture & Productivity
Slack, Workplace by Facebook or Microsoft Teams: Choosing a Workplace Communications Platform
Microsoft Teams and Facebook's Workplace are new entries into the workplace communication space, aiming to compete with the popular Slack platform. These three apps provide similar features like group chat and file uploading, but each one is designed to appeal to a different type of user and workplace.
To help you decide which one is the best fit for your team, we'll look at each communication tool.
Slack
Slack is the current leader of team chat and collaboration, for many reasons. One of its biggest advantages is the tool's integration with over 600 apps, accounting for a range of categories like analytics, space management and payment processors.
These integrations make Slack more flexible and useful beyond group conversations.
The popularity of specific integrations like GIF support and custom emojis also make it a prime tool for creating a laid-back office culture, although these features can increase the number of distractions an employee faces in the office.
Slack's large user base and fast growth can also be credited to their freemium model. The free version allows for unlimited users for an unlimited period, while the standard and plus versions provide unrestricted message archiving and app integrations.
Pricing:
Free, but you can upgrade to Standard ($8/month) or Plus ($15/month)
Works well for:
Small-to-medium-sized teams, creative agencies and startups
Workplace by Facebook
Built on Facebook's infrastructure, Workplace has several benefits drawn from the social network's massive platform of 1.7 billion active users. The app's interface resembles the main Facebook site, so most employees will have little trouble getting started on this tool. Users can also post updates in Facebook's newsfeed format.
Although all three platforms offer video chats, Workplace is the only one so far that allows users to livestream events.
It's important to note that accounts, messages and data within Workplace are completely separate from Facebook. What this means is that companies own and control their own data so there won't be any overlap with personal accounts.
Pricing:
Free three-month trial; $3/user for the first 1,000 users
Works well for:
A broad range of teams, particularly those who work in non-office environments (such as retail or factories)
Microsoft Teams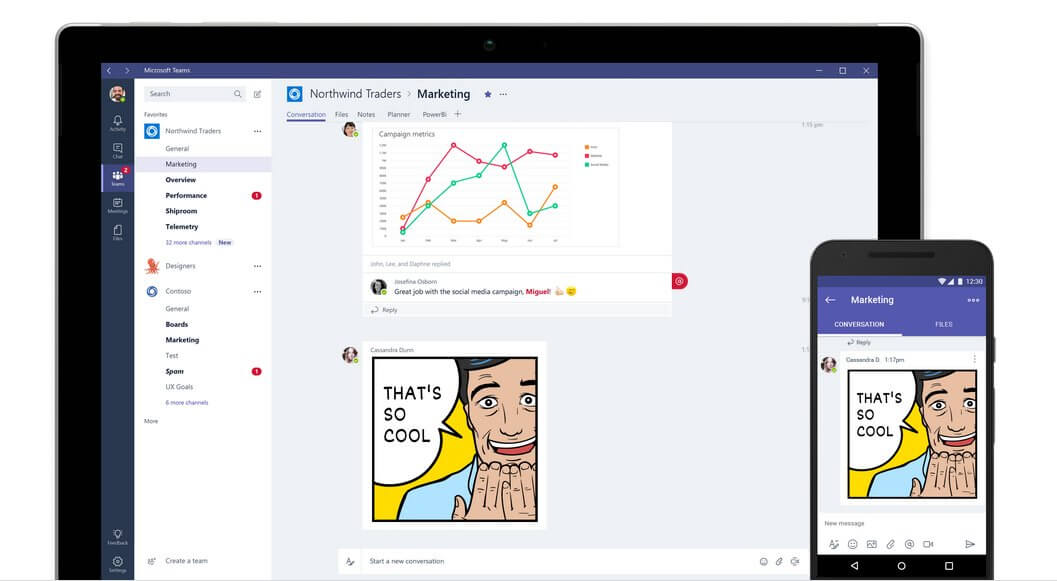 A group chat–based platform, Microsoft Teams comes bundled with Office 365 Business or Enterprise plans.
Microsoft's user interface takes a more formal approach to communication than Slack, restricting casual functions like stickers and custom memes to specific sections of the platform.
The tool also integrates with apps in Microsoft's productivity suite like Excel and Skype, which means it works best for users who are already embedded into the Office 365 ecosystem. While Teams lags behind Slack in the sheer number of available app integrations, Microsoft has developed a strong framework for bots and integrations while forming key partnerships with companies like Asana. As the newest of the three platforms, Microsoft Teams will be officially available in 2017.
Pricing:
Business plans ($5–8.25/month) or Enterprise plans ($12–35/month)
Works well for:
Larger, more traditional companies that use the Office 365 suite
When making your decision, it can help to seek input from your team to learn which tool they'd be most comfortable using. Ultimately, though, you'll need to consider your office's budget, work culture, storage needs and app ecosystem to determine the right communication platform for your office.
Photos: Anton Atanasov, Slack, Facebook Workplace, Microsoft Teams