COVID-19
COVID-19: Balancing between WFH and office time during the coronavirus
Pre-COVID-19 workplace policies won't be enough to support employees in a post-coronavirus world.The return to the office will be phased. And it's going to be a huge adjustment for your people.

At the office, employees will need to work with PPE equipment, workplace distancing, and a range of other safety measures. And at home, they'll continue to deal with an array of remote-work challenges while they get their work done.
To help you support employees and create a positive employee experience, here's a look at some of the strategies being used to support employees during a Work From Home (WFH) / Work From Office (WFO) schedule.

"We want employees to be able to work where they feel most creative and productive. (Our employees) will be able to work from home permanently, even once offices begin to reopen."

— Media Spokesperson, Square
Introduce new policies that support a WFH-WFO schedule
You'll need to introduce new policies that help employees do their best work in their WFH and office environments
Here are some of the policies companies are introducing to help their people navigate this new normal.
Allow employees to choose WFH if they want
While Facebook, Twitter, Square, and Microsoft are keeping their physical facilities open and operational, they're also embracing remote work flexibility for employees. 
Even if you can't offer WFH as a long-term solution for your people, remember that not all employees will be ready to work in the office once it's permitted to do so, for a variety of reasons. 
Treat each employee with empathy and give employees the option to continue to work remotely if they want to, no matter their reasoning. 
Actively encourage paid time off (PTO)
Dropbox was quick to encourage the use of PTO. They also scheduled a company-wide day off to give employees time to take care of themselves.
Create a shift-based schedule that suits your company culture—not some other company's culture
A common return to work strategy that's emerging is the idea of bringing people back to the office in shifts. 
Some of the scheduling strategies we've seen for bringing people back to the office include:
The 10-4 Strategy:

returning people to the workplace in a "10 days at home, 4 days at the office".

The 50/50 Schedule:

employees alternate between the office and WFH, one day on, one day off.

The One Week On, One Week Off Schedule:

employees WFH one week, then WFO the next.
If you return employees to the office in shifts, remember to test and adapt your strategy as COVID-19 guidelines evolve.
— Jeffrey Goldman, COO, BeyondHQ 
Overcommunicate your COVID-19 safety measures
Now more than ever, employees want to be part of the discussion. Help your people stay safe, calm, and informed by using every opportunity to communicate your COVID-19 safety measures.
Send frequent communications
COVID-19 guidelines are changing frequently, so make sure you provide updates on a regular basis. Create a schedule of virtual meetings to ensure everyone is being looped in on updates, expectations, and next steps.
Add COVID-19 safety measures to your floor plan
Adding directional arrows, maximum room capacity, and the location of hand sanitizer and cleaning supplies to your floor plan is another opportunity to communicate your commitment to employee health and safety.
Aim for clarity and accessibility
Make sure your guidelines are easily accessible. Slack, email, and internal wikis are a great place to disseminate and store workplace documentation.
Consult your employees regularly
One-on-one meetings and pulse check surveys are a great way to gather feedback on your COVID-19 workplace strategies, and assess how your people are faring. COO of BeyondHQ, Jeffrey Goldman, even suggests that having an ongoing, transparent dialogue with your employees can be a great way to gather strategies and guidelines that work well for your people.

"I think the return to the workplace is going to be pretty jarring, just because of the way we're going to have to return."
— Kate Lister, President, Global Workplace Analytics, Why The Future of Work is WFH 
Prepare your people for the return to work—mentally and physically
Returning to the workplace will be jarring in more ways than one. Once employees arrive, new floor plan layouts, traffic flow directions, seating changes, and enhanced safety measures will be disorienting. 
Here's how companies are preparing their people for this transition.
Communicate floor plan changes before people arrive
Help employees familiarize themselves with facility changes before they return to the office. A tool like Visual Directory® can help you communicate your floor plan updates and seating changes in real-time on any device. Even a simple PDF facility map is better than nothing. 
Emphasize your commitment to safety throughout the workplace
Increased signage in your office, like directional arrows and instructions on where to find sanitizing stations and cleaning supplies, can help to subtly remind your people that employee safety is a top priority.

"When we do decide to open offices, it also won't be a snap back to the way it was before. It will be careful, intentional, office by office and gradual."
— Jack Dorsey, CEO, Twitter, Twitter CEO Jack Dorsey Tells Employees They Can Work From Home 'Forever'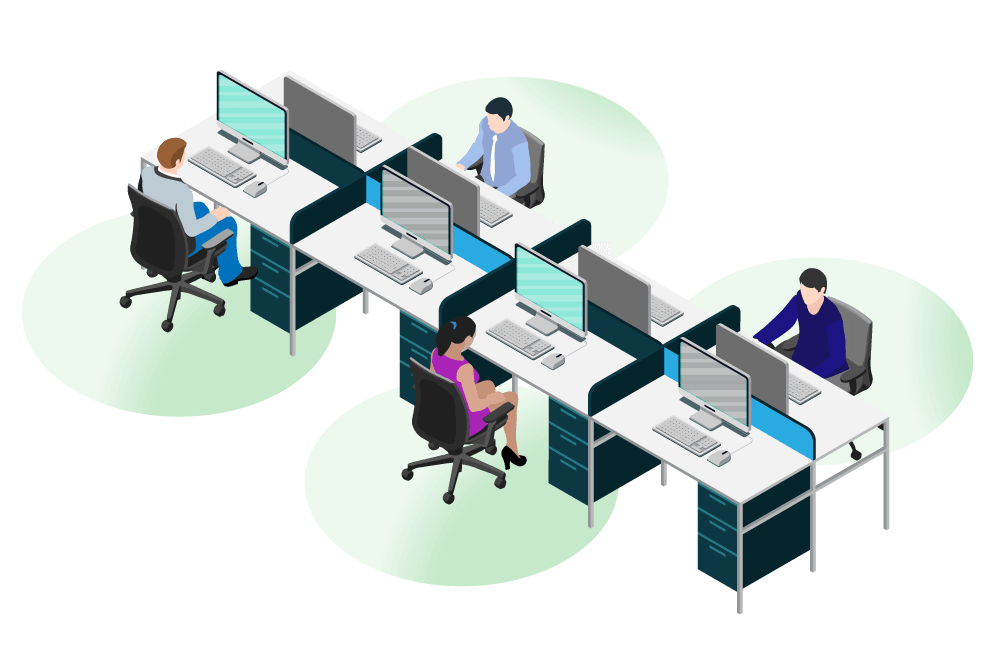 Keep WFH and WFO employees connected
It's common for remote employees to feel left out and often sidelined. Now more than ever, you'll need to work hard to preserve your employee experience and keep employees connected while everyone's juggling time at the office and WFH.
Encourage regular check-ins and 1:1s
Ask leaders to schedule one-on-one meetings with each of their team members, to give individual employees the opportunity to address personal concerns in private and maintain a sense of connection.
Schedule frequent online gatherings
Cubeiq and PubMatic employees meet regularly for virtual workout classes. Engine Group started an optional meditation session Zen@Home. Momentum Worldwide provided access to remote mindfulness, nutrition and fitness experts to support employees.
Whether it's a happy hour, lunch and learn, or an online fitness or mindfulness session, virtual gatherings are a great way to keep employees connected.

"Unfortunately, technologies are emerging for what I call "Virtual Babysitting". Apps that track keystrokes, programs that require employees to check in every hour or stay on video 24/7. Total micromanagement by technology. I hope that we all learn to manage remote employees by results before that technology takes hold."
— Kate Lister, President, Global Workplace Analytics
Give WFH employees the tools they need
According to telecommuting expert Kate Lister, not having the right tools in place is one of the most common reasons companies struggle with remote-work.
"Things like knowing how to run a Zoom meeting, knowing how to collaborate with someone virtually, learning how to use Google Docs or Microsoft Teams or Slack."
Conduct quick, basic surveys to see what each WFH employee needs
Use a tool like Google Surveys (free) or Typeform to run a basic company wide survey and make sure every single WFH employee has what they need to do their best work from home.
Ask questions like:
What software do you need to do your job?

What expenses do you need covered and reimbursed?

What office equipment (furniture, desks, computer accessories, etc) do you need to create a better work environment at their home?
Buy or loan home office equipment to WFH employees
Shopify gave its employees $1,000 to furnish their work-from-home setups with whatever gear they need because of the coronavirus. If you don't have the budget to follow suit, consider loaning out office equipment to WFH employees.
You can allow remote employees to submit equipment requests in a tool like Request Manager. If you do loan equipment out, track it with asset tagging to make sure it gets returned to the office when it's no longer needed.
Still stuck? Check out these resources
If you need more information on supporting WFH and WFO employees as you adapt your workplace in the coronavirus pandemic? Here are three of the most comprehensive resources available.
The International Facilities Management Association's (IFMA) free

Pandemic Preparedness Manual

outlines all of the things that each organizational unit should be thinking about during this period.

All Remote

is GitLab's 600-page employee manual to remote work. The chapters on remote work and communication walk readers through every aspect of working efficiently as a remote team. How to organize your day, how to adjust your tone when you're using email, when to use audio and video for your meetings. 

REMOTE: Office Not Required will help you develop a remote-friendly culture.
OfficeSpace is the leading workplace management platform for companies around the globe. 
Photo Credits: cottonbro, Anna Shvets, OSS, Gustavo Fring, Luke Peters