COVID-19
COVID-19: How desk booking can help with return-to-the-office plans
Flexible working is here to stay and desk booking will be essential in making it a success.
Here, we explore how desk booking software can make going back to the office seamless, help employees feel safe, and allow facilities managers to optimize floor space.  
What is desk booking?
Desk booking lets employees reserve their workspace either in advance or on the spot. As a process, it often goes hand in hand with hot desking and while neither concept is new, COVID-19 has forced businesses to review the way booking procedures are implemented. 
As offices begin to open up, it's becoming clear that working in the midst of a pandemic needs agility and resilience. In reality, it means creating physical floorplans and allocating desks manually, is laborious and inefficient. As a result, digital solutions have become the unsung heroes—enabling facilities managers (FMs) and workplace teams to effectively manage a return to the office that prioritizes both employee welfare and business needs. 
Crucially, the needs of both staff and business are becoming ever more closely intertwined and positive employee experience is a key component in creating a resilient workplace. With this in mind, the ability to book desks or administrate team seating plans with software is no longer a luxury—it's becoming an essential tool for facilities management teams.  
Seamlessly transitioning from home to the office
COVID-19 has cemented the desire for flexible working schedules in the mindset of most workers. Research from the  Global Work from Home Experience Survey supports this and shows that the majority of office staff have a preference for combining their work from home/work from office opportunities. 
Effectively balancing office and remote working needs real-time data so that employees and leaders can manage expectations as well as the physical environment. The suite of space management tools available in OfficeSpace make managing this balancing act easy. Not only can staff search for and book desks using any device, but requests can also be made on a self-service basis or can be approved by managers. 
Companies that are successfully using desk booking have said it's been a great way to facilitate choice. So while there hasn't been a rush of people wanting to come to the office as originally expected, there have been employees eager to return to the office for a variety of reasons. But whether staff work from home or office, feedback about desk booking has been mainly very positive. Employees are happy that any return to the office is optional and that if they do want to work from the office, they have the power to control the circumstances around that return. Reassuringly, desk booking has demonstrated all-round flexibility. An employee at one firm who booked and then canceled desk space at short notice was able to do so without issue, freeing up the space for others. 
This flexibility is a valuable tool in any business arsenal as staff have the ability to choose the environment in which they will be most productive. Rather than being bound by the nine-to-five hours and restricted by location, employees are empowered to make decisions that put them in control of their schedules. For business throughout the US, this is vitally important as statistics show disengaged employees cost firms around $450-$550 billion every year.    
Firms that already use digital platforms to hot desk can further connect their physical and digital workspaces by linking up integrated sensors which automates the entire process—monitoring which desks are available and updating the system in real time.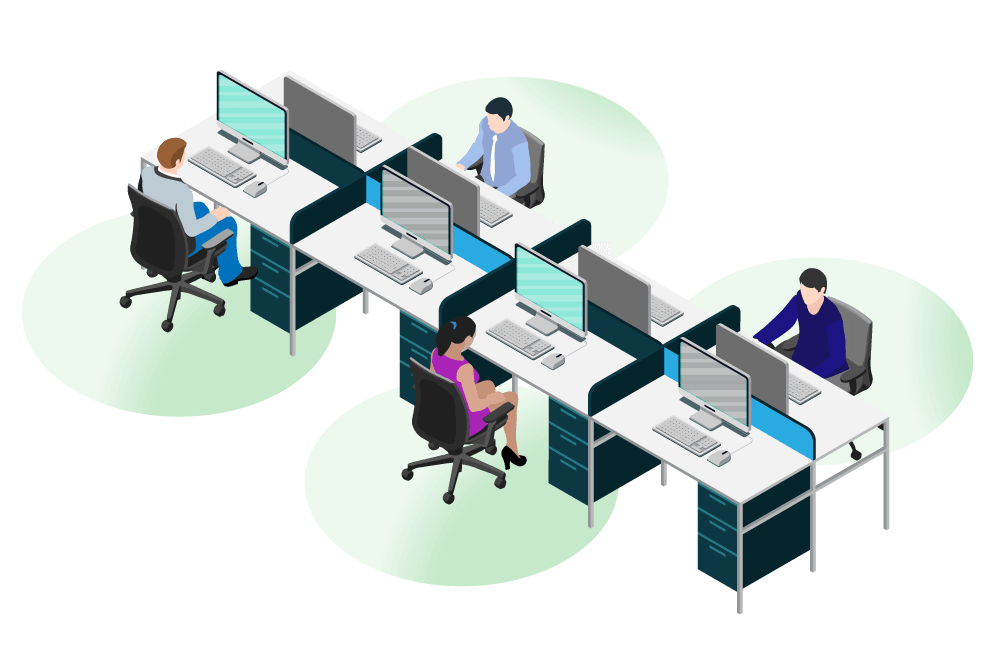 Safeguarding employee health and well-being
Desk booking isn't just an effective administrative tool. It can help safeguard the physical well-being of staff and ease any emotional anxieties employees may have about going back to the office environment. 
OfficeSpace's latest COVID-19 feature, Distancing Planner, instantly generates safe and accurate distanced seating plans using AI, allowing you to know the maximum amount of safe assigned or bookable seats you can provide to your employees. Safe seating plans can be continually adjusted based on local social distancing restrictions. Similarly, desks can be booked based on shift patterns if this is the back to office strategy being implemented.   
Desk booking is also an ideal record keeper and has been used as such by international data center Equinix, providing a useful lesson learned when it comes to office reopenings. Good record keeping will undoubtedly become more and more important as offices strive towards increasingly rigorous health and safety protocols. For example, knowing who has sat where, as opposed to ad hoc hot desking arrangements, is essential for contact tracing. This clarity also gives FMs a better idea of which spaces need to be prioritized for enhanced cleaning. 
Beyond COVID-19, desk booking is equally valuable, acting as a record of staff on the premises on any given day. This visibility makes it easier to take a roll call of employees during fire drills and security checks; it can also make it simple to find colleagues. In addition, if systems are fully integrated, employees can be notified if visitors and deliveries have arrived, minimizing potential security risks.  
Optimizing floor space to promote efficiency
One of the most powerful aspects of desk booking is the ability to generate data by viewing desk adoption rates and tracking trends over time. Interpreting this data can help shape facilities strategies and influence long-term business decisions over real estate—which could lead to a reduction of overheads. 
Although cost efficiency is of paramount importance, efficiencies can be calculated in other ways and desk booking features can enable these. For example, strategic desk placement and booking can help knowledge sharing within a business—which larger organizations may find particularly appealing. Preventing teams and individuals from working in silos can encourage wider cross team cooperation creating a greater sense of unity. 
Core features such as Desk Booking, Visual Directory, Space Management and Distancing Planner also help save an FM's time. This is crucial because the reality for businesses across the globe is that returning to the office is likely to be an ever shifting landscape. Having the ability to adjust floor plans, configure workspaces, book desks and meeting rooms with just a few clicks will ensure that organizations continue to be agile.
Embracing the future of work
Desk booking might previously have been perceived as part of a brave new world of facilities management. Nevertheless, the concept of workspace has been forced to adapt. Now, desk booking is proving to be an essential part of transitioning back to the office.
Historically, desk booking might also have been implemented for particular financial, physical, or cultural reasons depending on organizational strategy and ethos. Today, its importance lies equally in all three: utilizing the space you have to see where costs can be cut, ensuring employees are physically safe, and adapting to cultural changes as eyes have been opened to the benefits of true flexible working.
Digitizing and automating desk booking procedures isn't just simplifying the process for larger firms. OfficeSpace software is scalable, making it compatible with businesses of all sizes, enabling you to adapt to change and manage growth all at the same time.
To speak to a colleague about how OfficeSpace can help your organization,

contact us

for a

demo

. 
Photos: OSS, Sarah Pflug, Kay Lau, Austin Diesel, Burst, Unsplash