COVID-19
COVID-19: How to maintain workplace distancing with desk booking software
Workplace distancing will be the new normal for employees in the wake of COVID-19. 

What is workplace distancing? Workplace distancing refers to maintaining a physical distance of six feet (two meters) from employee to employee within a workplace or office environment.
Here are four strategies you can use to keep your people safe and "socially distanced" using your company's desk booking software. What is desk booking? Desk booking, also known as office hoteling, is the ability to book a desk, primarily through the use of desk booking software.
Limit which desks are bookable to adequately distance seated employees
Current physical distancing guidelines for employers recommend employees stay at least six feet (2 meters) apart at all times.
If you don't have enough space in your facility to physically separate every desk six feet apart, you can maintain distance between seated employees by limiting which desks can be booked on your floor plan.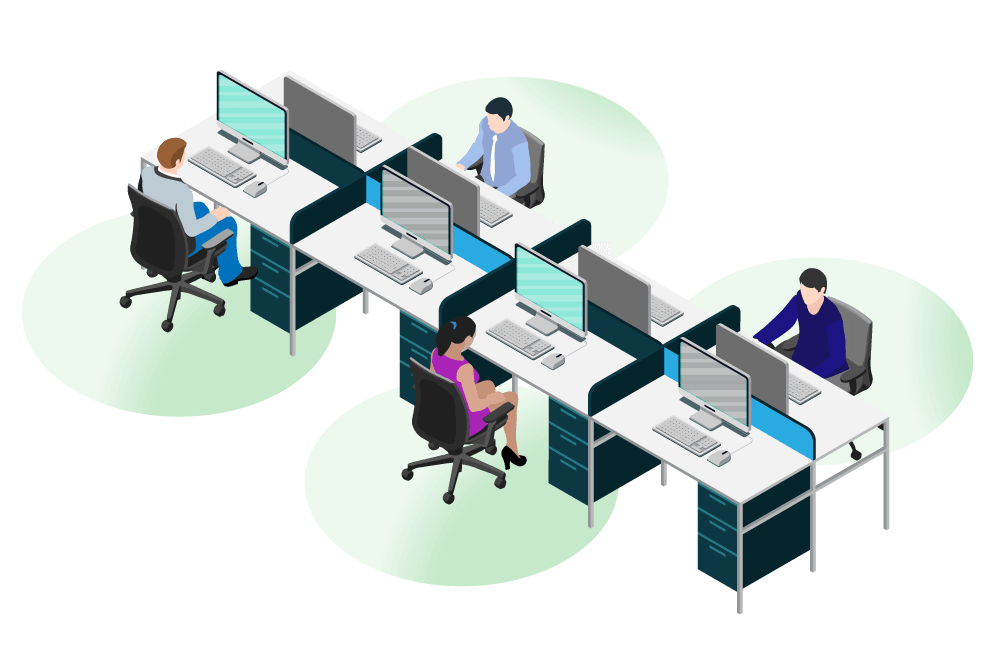 OfficeSpace's Distancing Planner tool displays a six-feet radius around each bookable desk.
How to implement this strategy with desk booking software
Update your virtual floorplan to make sure all bookable desks are at least six feet apart. Using a tool like Distancing Planner can help with this process.
If you want to monitor desk usage during the return to work, using workplace sensors or the Desk Booking check-in feature can help you keep a close eye on how desks are being used.
Prevent "on the spot" bookings to reduce surface sharing
Before the outbreak, employees wandering around the office and using any available desk (hot desking or free addressing) wouldn't be a major concern. But now that studies have shown that the COVID-19 virus can survive on surfaces for 4 to 72 hours, multiple employees sharing the same desk—and therefore the same surface—is far from ideal.
How to reduce surface sharing with desk booking software
Temporarily deactivate hot desking (spontaneous, on the spot desk usage) in your facility and use desk hoteling instead.
With desk hoteling, employees need to make an advanced reservation to use a desk. Employees can submit booking requests on their own device (see below). And a designated person on your facilities team can view, approve, or decline each request.
This process is a little more involved than hot desking. But it gives facilities teams more control and visibility into how and when desks are being used throughout the workplace. 
For example, if a group of hoteling desks is due to be cleaned, facilities can simply delay or reassign pending booking requests until those seats are ready to be used again.
If you integrate this strategy, make sure you double check your floor plan to deactivate any hot desks or convert them to hoteling desks.
Control which desks an individual employee can book to reduce cross-contamination
Ideally, the same employee would work at the same workstation without sharing the space. But many companies with large workforces and shared desk programs won't have that luxury, especially if like many they're also implementing shifts.
Facilities teams that find themselves in the latter category can still mitigate the risk of cross-contamination by controlling when and where individual employees can book desks during their time at the workplace.
If an infected person has been present in the workplace, their whereabouts will be easier to trace and the cleaning of those areas (desks, floors, common areas) will be much more manageable.
The added benefit of this strategy is that you can also block out "non bookable" hours to give your cleaning crews ample time to disinfect desks between bookings.
Encourage employees to book desks well in advance, from the comfort (and safety) of their own home
There are two advantages to this strategy. First, the less time an employee needs to spend in your facility looking for a desk, the better. And second, when your people book desks in advance, your facilities team will have greater visibility into how employees will be distributed throughout the workplace on any given day.
How to do this with OfficeSpace
Talk about the importance of booking desks in advance, preferably from home. Explain why this strategy will directly contribute to the safety of everyone on the team.
Employees can use OfficeSpace to search and book desks in advance using any personal device—mobile, tablet, or desktop.
Remember: your country may have additional COVID-19 workplace guidelines
At the time of writing this guide, the "six-feet workplace distancing" advisory was in effect around the world.
Be sure to check the latest coronavirus advisories from your government and local health authority as you plan your organization's approach to social distancing in the workplace.
Depending on your region, additional advisories and updated guidelines may be in place.
For reference, here are some quick links to each country's COVID-19 Workplace Guidelines:
Comment below or

send us a tweet

to let us know how you're going about this process with your people.
Photo Credits: iStock, OSS, Claudio Schwarz