OfficeSpace Announcement
Create a safer work environment with Distancing Planner and Safeguard
To help you provide a safe, flexible work environment to returning employees, we released two new features in OfficeSpace—Safeguard and Distancing Planner—and we added new functionality to Desk Booking.
Here's a closer look at how you can leverage all of these new features to create a safe, dynamic workplace, screen for COVID-19 risk factors, and generate distanced seating plans in seconds.
Safeguard: screen for COVID-19 risk factors and stay compliant
Safeguard helps you screen for COVID-19 risk factors as you bring employees back to the workplace.
It works by letting you create and send customized wellness surveys to employees before they enter the office.
Because Safeguard is built into OfficeSpace, so it integrates with your desk booking software—meaning that if an employee fails their Safeguard form, OfficeSpace will automatically cancel their desk reservation for the day and free up that seat for someone else to use.
Safeguard is included in the price of a regular OfficeSpace subscription, so there's no added cost to keep your people safe.
Here's how Safeguard can help you create a safer work environment for your people.
Ask the right questions and stay compliant
COVID-19 screening questions differ slightly from region to region. So, if your portfolio includes facilities in different jurisdictions, you can customize your Safeguard forms and confirmation messages for each location and conduct compliant employee health screening in each of your locations.
Make sure everyone completes their forms
Prompt users to complete their Safeguard form with automated reminders on the day of their bookings and make sure everyone submits their COVID-19 wellness check before coming into the office. 
Automated reminders can be sent via email and Slack—whatever's easiest.
Provide a safer work environment for healthy employees
Prevent employees from checking into their desk bookings until they pass their Safeguard check, and provide a safer office environment for your people.
Protect everyone's privacy 
Safeguard protects employee privacy by only storing a pass/fail result for each form submission. Only users with Admin permissions in OfficeSpace can access pass/fail results.
Distancing Planner: generate accurate, distanced seating plans in seconds
Distancing Planner simplifies the challenge of physical distancing in the workplace by generating accurate, distanced seating plans for any floor or building in your portfolio—no guesswork required, and no spreadsheet in sight.
Here's how Distancing Planner can make life easier for you and your team during every phase of your reopening strategy.
Visualize how much space there is in between desks
Distancing Planner can help you instantly visualize and implement a safe seating plan. This feature uses AI technology to generate seating plans that make the best use of your reduced seating capacity.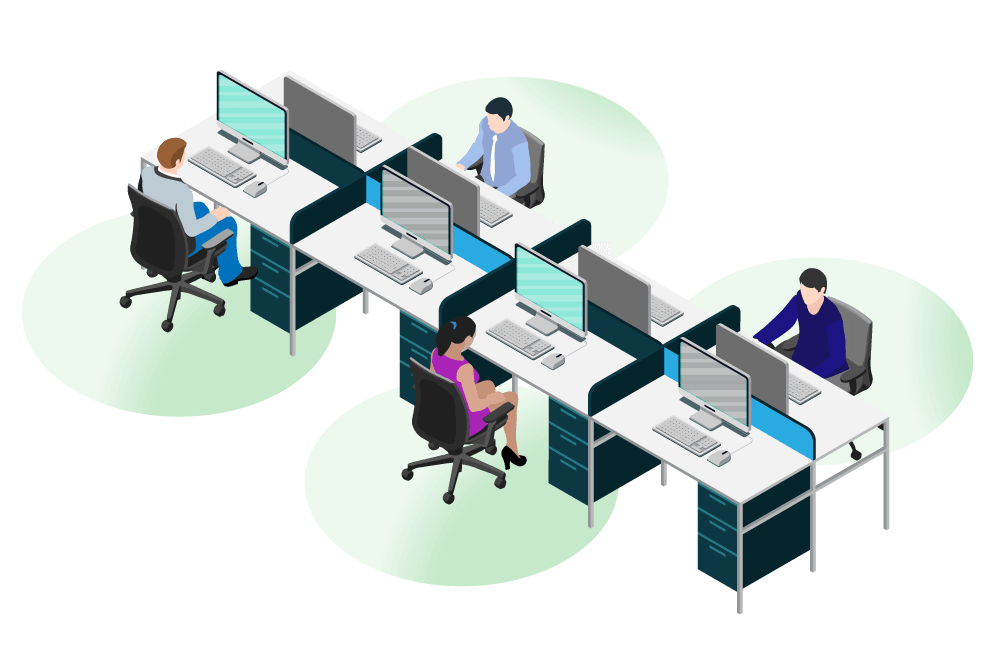 Create accurate distanced seating plans in seconds
You might be able to map out your first round of distanced seating plans with a spreadsheet (and hours of effort). But what happens when COVID-19 guidelines change and you need to update your seating configurations again?
Distancing Planner takes the guesswork out of the process by generating accurate, distanced seating plans in seconds whether you're creating them from scratch or updating an existing configuration.
See your available seating capacity in real time
How many seats can you offer employees with a six-foot distancing radius? What about with a larger distancing radius? 
Distancing Planner tracks your seating capacity in real-time and helps you visualize the impact of different spacing setups. Whenever you adjust your distancing requirements, OfficeSpace updates and displays your available seating capacity in real time.
View a distancing radius around each seat
Visualize the distancing radius around each of your seats, right on your floor plan. If you identify some seats that are too close to one another, you can make one of them inactive in seconds.
Desk Booking: check out these new enhancements
With Desk Booking, you've always been able to create a desk sharing strategy that suits your workplace and your people, but now we've added new enhancements to help you transition employees back to the office:
Permissions
Control who can book a desk by limiting its availability to a specific individual, or to employees within a specific department.
Booking limits
Proactively ensure your offices stay safe and comply with capacity regulations by limiting the number of reservations for a floor or site. 
Booking restrictions
Avoid multiple bookings by restricting each employee to one desk booking per day.
Want to create a safer work environment for your employees?
Book some time with our team to see

Safeguard

and

Distancing Planner

in action, and learn how OfficeSpace can help.
Photos: Hunters Race,  Pierre Bamin, Cherrydeck, OSS