COVID-19
COVID-19: 11 OfficeSpace features that will help you reopen the office
Get everything you need to reopen your office, keep your people safe, and create a better place for everyone as COVID-19 guidelines evolve.
Offices worldwide are slowly starting to re-open in the wake of COVID-19, but the return-to-work pathway is certainly not linear. Reopening guidelines vary significantly by state and are constantly evolving, so there's a lot to consider before bringing employees back into the physical workspace. 
As we move into the post-COVID future, facility managers (FMs) will need to be more agile and adaptable than ever before to meet compliance requirements while ensuring employees feel safe. But with change comes opportunity. This 'new normal' brings the possibility to revitalize the workplace, allowing greater flexibility, connectivity, and oversight. 
OfficeSpace Software has comprehensive COVID-19 resources covering everything FMs and companies need to plan, implement, understand, and adapt their reopening strategy, ensuring it's successful, sustainable, and safe. 
Let's take a closer look at these resources.
Plan a physically distanced workspace
The Centers for Disease Control and Prevention (CDC)'s return-to-work recommendations state employers should protect employees by implementing physical distancing measures. This includes increasing the physical space between employees to at least six feet and allowing flexible arrangements like shift work and remote work. 
Social distance planning is vital for employee mental health, too. Up to 50% of employees are fearful of returning to the office and being exposed to COVID-19. As many employees emerge from their home offices for the first time in months, a new term has been coined: re-entry anxiety. Therefore, it's essential to account for these anxieties and changes when planning your company's transition back to the physical office.
With OfficeSpace's resources, FMs can plan compliant physical distancing strategies and reduce employee anxiety. Take a look at our innovative planning solutions:
Flexible Seating
Managing your floor plan in conjunction with these new arrangements may seem overwhelming, especially as restrictions and regulations constantly evolve. Using software that streamlines this essential task makes managing seating easier by taking the guesswork out of your floor plan reorganization. 
With  our Flexible Seating features, FMs can set up combinations of assigned and flexible seating on a floor plan, offer shift-based seating and hot desking, and limit when specific desks are available. You can limit the volume of desks available for booking in line with your state and local health guidelines or restrict desk bookings to specific individuals or departments.
Distancing Planner
It's time consuming and laborious to reorganize seating plans manually. To make this easier, a distancing planner helps you organize desks and ensure they're appropriately spaced. That way, there's never a question as to whether your workspace is in compliance with health codes in terms of occupancy and the distance between desks.
Using an advanced algorithm, the OfficeSpace Distancing Planner generates accurate distanced seating plans instantly. FMs can adjust these plans as needed and turn available desks into bookable ones or create shift seating all with the same software.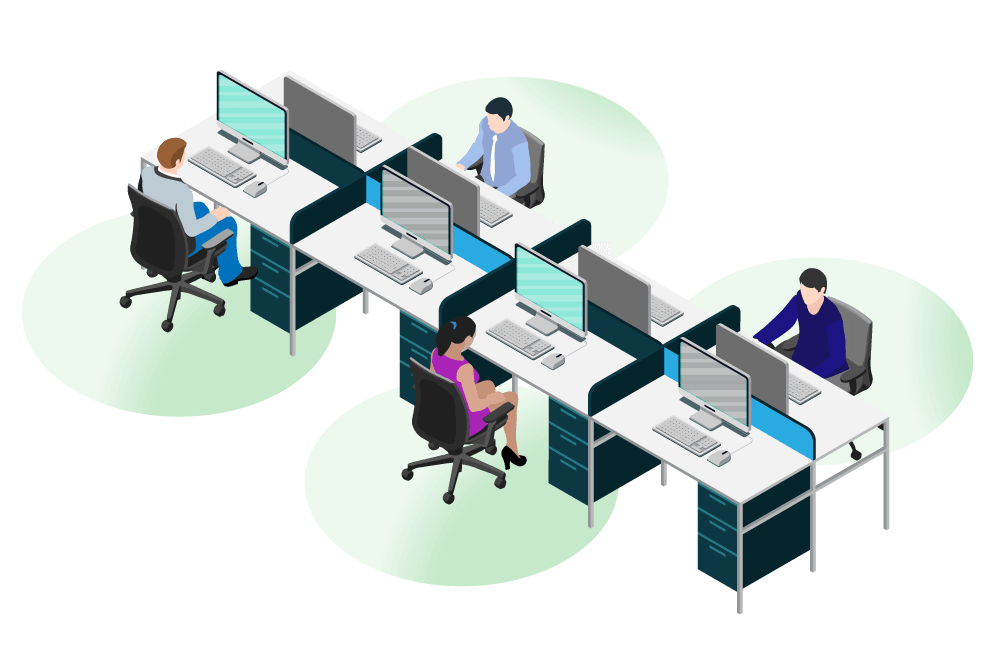 Shifts
Many companies have responded to COVID-19 by introducing a hybrid workforce structure. This could mean employees work some days from home and some from the office in opposing shifts. With shift scheduling, every other desk is open to maintain proper social distancing. This is known as the "Checkerboard" seating strategy as the floor plan resembles that of a chess or checkers board. This seating strategy minimizes employees' interaction with shared surfaces while giving clear instruction on where they're supposed to sit while they're in the office.
Shift work is an excellent strategy for managing occupancy levels and keeping employees a safe distance apart. With OfficeSpace Software, you can easily plan your employee shifts, display those shifts on your floor plan, and close off specific seating areas for cleaning.
Scenarios
Sometimes, the most difficult part of planning a workplace configuring is envisioning how it's going to look. You know employees need to be a specific distance apart from one another, but that can be challenging to plan without a visual tool. Plus, if you're working with a unique space, that adds another layer of complications.
Experiment with different floor plan scenarios and visually see your reconfigurations before pushing out live updates to employees with the Scenarios feature. FMs can change seating configurations as well as add quick updates like where hand sanitizing stations and disinfecting materials are located in the office. 
What's more, while you merge updates with your existing floor plan, FMs see two clear lists of changes—both physical changes, like furniture shifts, and people changes, like a certain employee no longer sits on this floor. This feature helps FMs understand how these changes will look before pushing any changes live. When you're ready to push the configurations live, simply merge your changes and share them with employees.
Implement and communicate solutions in real time
Employees want clear communication, especially in times of uncertainty. This doesn't just mean communicating the big picture items like the company's financial performance, but things like what the company is doing to keep employees safe. 
Companies can alleviate re-entry anxiety by clearly communicating the details about the office reconfiguration. What's moved since the employees were last in the building? Where is the hand sanitizer located? Where is everyone sitting, and what spaces have been closed off for cleaning or physical distancing or purposes?
OfficeSpace Software helps you keep employees up-to-date with the latest changes. Here's a look at some key features of our software that help with COVID-19 planning:
Safeguard
It's one thing to reconfigure the office and practice physical distancing, but what about stopping the risk of COVID-19 before it enters the office? With Safeguard, you can screen for COVID-19 risk factors, maintain compliance with health and safety regulations, and provide a safe office environment for employees. 
Safeguard's form system makes it easy to customize forms based on location and local health protocol. Facility managers can send these forms to employees before they enter the building to ensure there are no impending health risks at the start of each work day. What's more, FMs can prohibit employees from checking into their desks unless they've passed their Safeguard check. Complete with advanced privacy parameters, Safeguard protects sensitive employee information so you can be certain only administrative eyes have access. 
Best of all, Safeguard is included with the regular subscription of OfficeSpace, so safety doesn't come at an added expense.
Visual Directory®
Use interactive floor plans, like our Visual Directory® tool, to communicate changes to employees in real time. Employees can access Visual Directory® from any device and confidently book desks wherever they're located. 
Facility managers can also establish one-way traffic flows, mark hand sanitizer stations throughout the office, and make sure employees always have the most up-to-date version of the floor plan.
Desk Booking
Offering employees the ability to book a desk before they arrive at the office can alleviate any stress regarding workplace safety. If employees know they have a designated desk to work from for the duration of their shift or however long they are in the office for, this can mitigate return-to-work anxiety. 
Our desk booking tool enables employees to see which desks are available through Visual Directory® and book directly from their mobile phone, tablet, or laptop. Plus, managers can place restrictions on which desks are available to book in case a certain area needs additional cleaning in between uses.
There are several additional features and a number of ways to set up Desk Booking that give FMs more control over the workplace.
Room Booking
Shared spaces like meeting rooms require creative planning around how those spaces will be used safely during this time. Our Room Booking feature allows employees to book meeting rooms in real-time from a range of devices while clearly viewing each room's maximum occupancy. 
In addition, employees can view the features of each meeting room, like if a room has a projector or conference phone, so they can book the right room every time. Room Booking reduces the possibility of groups of people gathering in one place by accident. For example, employees can confidently book rooms for meetings without worrying about double booking due to the real-time nature of Room Booking. 
Mobile, Slack, and Teams integrations
As mentioned above, communicating important company updates and changes is an essential part of a successful return-to-work strategy. Enable employees to access the office layout remotely, so they feel familiar and comfortable before setting foot inside. 
These features don't just alleviate short-term re-entry anxiety. They enhance the overall employee experience, allowing teams to work smarter and more efficiently into the future. 
Plus, you can access the OfficeSpace app no matter which device you're using. Get the complete OfficeSpace experience on both iOS and Android—no switching between apps or working with limited functionality.
Use data to review, understand, and adapt
As a facility manager, you know all too well the value of occupational data. But the way we use this data has changed—we once aimed to maximize the number of employees in a space, but now the focus is on finding the right balance between efficiency and safety.
Reporting and analytics
It's even more critical to have occupational data you can trust and use in your planning in these rapidly changing times. With OfficeSpace, you have access to important data via comprehensive occupancy reports that are viewable from any device. Our reports give FMs the insights needed to make quick and informed decisions around safety and operational efficiency, so you can continue to evolve your strategy in line with changing guidelines and employee needs.
Check-in and badge integration
Check-in and badge integration makes it easy to understand exactly how and when your desks, rooms, and spaces are being used. Employees check-in through the OfficeSpace platform, and badge information is imported into OfficeSpace through an API. 
This seamless data transfer helps FMs understand the goings-on of the office at all times and help mitigate hazardous situations. For example, in the event of a positive COVID-19 test result among employees, you can instantly access contact tracing data and develop a plan of action based on that information.
Also, with check-in and badge integration, you can see which employees have been in your office and confirm that assigned desks are in use. This technology helps FMs further understand day-to-day building operations at a zoomed-in level so changes can be made quickly as necessary.
Use OfficeSpace Software to power your workplace reconfiguration
There's no question COVID-19 has altered the way the world works. With the right tools, organizations can be prepared for change, stay agile, and keep employees safe, no matter what new challenges emerge. 
OfficeSpace has powerful tools and solutions so you can reopen with confidence and create a better, safer workplace. 
Head to our comprehensive

COVID-19 resources page

for more ideas for transforming your workplace.
Photos: Unblock, Matthew Henry, Burst, Pexels, OSS