Hot Desking & Desk Booking
Office hoteling best practices and etiquette
Office hoteling best practices and etiquette are top of mind as more people are working in flexible workspaces. Office hoteling is the practice of making desks and other workspaces in the office reservable for employees.
Particularly in hybrid workplaces with flexible desk arrangements, hoteling empowers employees while enhancing space and resource management for facility managers (FMs).
Add an effective office hoteling software (via an office hoteling app) to the mix, and the process of hoteling becomes a seamless and efficient system with lots of great benefits, including:
Improved employee experience due to the choice, peace of mind, and flexibility that come with hoteling.
An easier post-pandemic transition from remote work back to the office, since hoteling supports a variety of hybrid workplace models.
Optimized space management with visibility of where everyone is seated or scheduled to be working.
Reduced overheads by limiting how many employees are in the office at one time, and potential to shrink the real estate portfolio thanks to evidence-based analytics about how the space is used.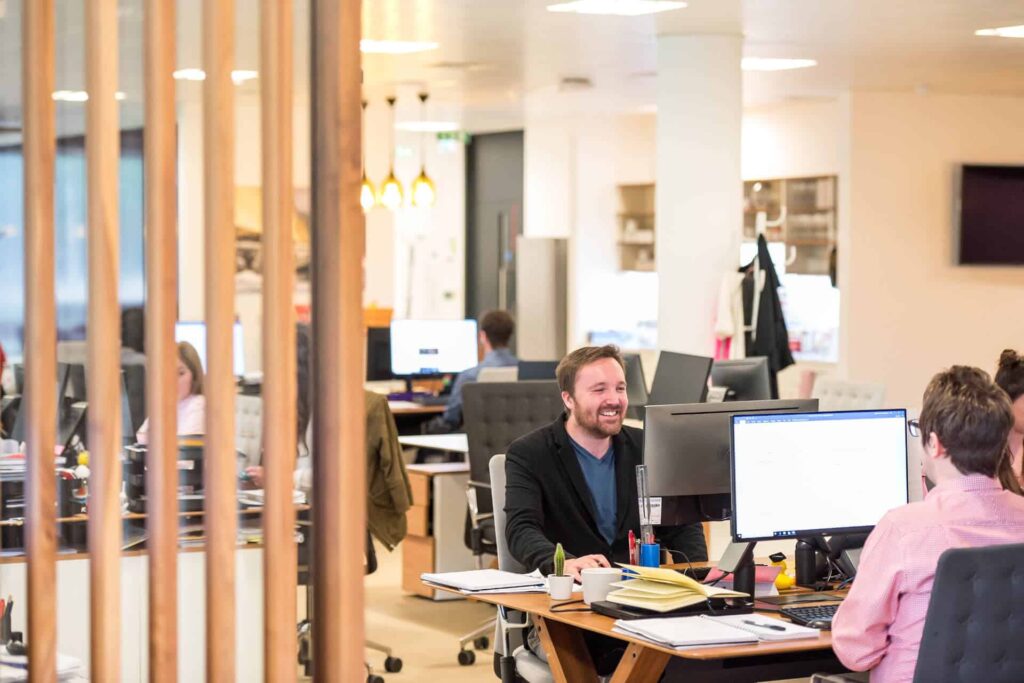 Office hoteling best practices for companies and facility managers
The way companies go about the implementation of their hoteling model (also known as "office hoteling" and "hotelling") can be make or break for its success.
There are six office hoteling best practices that facility managers can follow to ensure hoteling is a hit right from the beginning:
1. Communicate office hoteling guidelines and etiquette ahead of time
As with any kind of change management in the workplace, it's important to help employees feel prepared and supported in their adoption of office hoteling.
Communicate clearly and frequently before you make the switch. You want to make sure everyone knows what to expect, not only in respect of the space and its design, but also in terms of desk booking and how to use the reservation system.
It's also essential to communicate your specific policy or office hoteling rules. Ensure everyone knows their obligations when it comes to using the space responsibly. This will include your expectations around hoteling etiquette—more on that below.
Communicating ahead of time also provides an opportunity to build some anticipation and enthusiasm for this new way of working. Particularly when you emphasize all the great benefits that come with hoteling.
2. Offer a variety of office hoteling furniture and layouts
The ideal hoteling model offers employees a variety of flexible workspaces so they can reserve the type that best suits their needs on any given day.
Having a good range of office hoteling furniture and layouts is a must. Employees will appreciate a blend of ergonomics they can switch between during the day. They'll also be at their most productive when they're guaranteed access to that quiet room for concentrated work on a deadline, or a collaborative space for bouncing ideas off their team.
A great option to pair with hoteling is activity-based working, which not only boosts productivity, but enhances employee engagement and job satisfaction too.
An attractive, clean and adaptable work environment offering a variety of spaces is also more likely to attract and retain new talent.
3. Choose a robust desk reservation system
Selecting the right reservation system is a critical part of the hoteling process. Capabilities for the booking system should include:
A visual directory for wayfinding. Employees know exactly where to find the space that they've reserved. This is true, even if they've never set foot in the office before, or if the layout has changed since the last time they came in. More than that, the visual directory streamlines the booking process. It makes it easy for employees to review the location and features of each space before booking.
Ability to book on mobile devices. The whole essence of hoteling is that it fits the bill for a mobile workforce. Employees expect the technology and tools they use at work to keep pace with their everyday lives. Having a mobile app in the palm of their hand means employees can easily reserve the space and resources they need while on the move.
Integration with Slack or Microsoft Teams. The office can run as one slick machine when everything employees need is in one familiar place. By integrating your booking software with Slack or Teams, you optimize the employee experience while also keeping things easy and efficient for maximum productivity.
4. Enhance the benefits of hoteling with interactive floor plans
We've already looked at how a visual directory helps employees book and find their space. But the use of interactive floor plans has several other benefits for employees and FMs beyond simply wayfinding.
With an interactive map of the hoteling space, employees can easily connect with team members with an easy view of where everyone's located.
And just as the nature of work might change in an instant, so can the workspace. Employees wanting to pull together a quick team meeting can instantly see what collaboration space is available and book in with a couple of clicks or taps.
Even more sophisticated is the ability to drop pins. Employees can use this for finding their colleagues. It's also a great tool for requesting services like a supply restock or a visit from the cleaning crew.
And for the facility manager, the interactive floor plan makes space management a breeze. Particularly when planning an office move, you can use the interactive floor plan to drag and drop your layout and create a handy visual as you reimagine the space.
5. Complement your office hoteling system with the the right tools
The flexibility that comes with hoteling can soon become redundant if you don't have the right tools to go along with it.
A successful hoteling model considers the hybrid working tools that are most likely to maintain a completely flexible work environment for employees, while helping them do their best work. This includes collaboration tools like Slack, Teams, and Zoom, as well as project management tools like Asana and Trello.
Cloud-based collaboration and storage are also a big consideration for the hybrid workplace. Tools like Google Docs facilitate easy collaboration and version control for teams working anywhere, any time.
Equally important is ensuring the right tools are on offer for the facility manager, to make oversight and planning of the hybrid workspace the ultimate success. Along with interactive floor plans and an effective hoteling reservation software, intelligent data analytics and reporting software is a must when it comes to understanding space utilization and forecasting for the future.
6. Build safety features into the hoteling process
The prospect of desk sharing—whether hot desking or hoteling—can be daunting for employees. Particularly in view of the pandemic and the emphasis on preventing transmission of COVID-19.
As this Forbes article notes, it's important to "consider the stigma that may be attached to the practice of hoteling. Will people be comfortable sharing desks going forward, especially given health concerns? The answer will be different for different corporations, but spacing desks six feet apart and deep cleaning regularly (hoteling or not) will be a must."
To help address this stigma, facility managers can leverage an IWMS like OfficeSpace to help with several aspects relating to safety and wellness:
Tools like Safeguard ensure employees confirm they're in good health before they book a space, while protecting employee privacy and updating space information if employees can't attend the office
With Distancing Planner, facility managers can readily review their occupancy and adjust booking availability to safely adjust and manage capacity as needed
The office hoteling reservation system means the FM can also easily deploy targeted cleaning and sanitizing of workspaces, giving employees confidence every time they check-in
When it comes to general health and safety, there's always the chance an emergency could happen during office hours. If your hybrid workforce has to evacuate the office—due to fire or earthquake, for example—having a real-time record of who's on site means you can effectively take roll-call and ensure everyone is accounted for.
The above office hoteling best practices should be kept in mind and revisited as workspaces evolve.
Office hoteling etiquette for employees
Fundamental to the success of office hoteling is establishing and implementing some office hoteling rules for employees. Setting clear expectations about office hoteling etiquette helps ensure everyone knows their responsibilities to keep things ticking over smoothly.
Employee hoteling etiquette should include the following five ground rules:
1. Only reserve what you need
It can be tempting for employees to hedge their bets and reserve multiple options if they're not certain what their day's going to look like. Not only does this prevent others from using booked space that's sitting idle—it can also impact the reliability of data concerning space usage, and create unnecessary work like repeat sanitizing of unused desks.
Having an effective desk hoteling software (including interactive floor plans and integration with other tools) can mitigate this need for employees to cover all bases. If they know they can always see exactly what's open and change their booking in a matter of seconds, they're more likely to respect the policy and trust that the system works.
2. Don't be a noisy neighbor
A potential drawback to any flexible workplace is noise disruption. When making their reservation, employees should consider the task they're doing and how it impacts others around them.
Assuming your space provides a variety of options, employees can book into a quiet zone for concentrated work, or head for the lounge seating or conference room if they're collaborating on a project.
Employees accustomed to agile or activity-based working will likely already be mindful of their neighbors. They will likely make their space selections to avoid disrupting others.
3. Respect the privacy of others
Just like being mindful of noise, employees should remember that certain work requires privacy or protection of personal information.
Employees reviewing resumes or preparing sensitive HR documentation should book a private space. This way, they they can keep information secure and away from the eyes of others.
Similarly, employees who need to place a confidential phone call should avoid open settings where others can hear.
Employees should also keep privacy in mind when moving about the space. Practices like locking their screen when they go for breaks or ducking into a meeting room if a discussion turns confidential are good habits to instil before implementing hoteling.
4. Try mixing up your space selection from day-to-day
The beauty of hoteling is the choice and flexibility it affords. The whole process is undermined if employees book the same desk and park there all day, every day.
Providing a locker or other storage area for employees to keep their personal belongings can help ease their transition away from the perceived need for a permanent home.

Employees will also be more inclined to explore and book into different spaces if they have the right tools and the right variety to choose from.
If it's a matter of ensuring they're able to meet with certain team members, office neighborhoods can also help provide employees with a fixed zone within which they can be flexible.
5. Leave your hoteling desk clean and tidy
Anyone booking into a hotel is unlikely to return if they find it isn't clean.
The same goes for office hoteling. Employees need to have confidence in the cleanliness of the space to fully embrace the hoteling process. Part of that is the office cleaning and sanitizing procedures. But it's also incumbent on employees to make sure they clean up after themselves.
Communicating a clean desk policy is an essential part of the hoteling process. It emphasizes the collective responsibility that all users share in keeping the office space nice for everybody.
Providing waste and recycling containers within easy reach will encourage employees to dispose of their old coffee cups and empty sandwich wrappers before they leave.
Keeping green and odorless cleaning supplies nearby can also help employees follow a simple "clean-in and clean-out" policy when they come and go.
Pairing office hoteling best practices and etiquette creates the ideal hoteling experience
Office hoteling can be a great flexible work strategy for companies embracing the hybrid workplace model.
By following these office hoteling best practices and etiquette, facility managers can ensure everyone gets the best from the hoteling experience.
Photos: TheStandingDesk.com, Arlington Research, Israel Andrade, Brooke Cagle, Burst