COVID-19
Facilities management and planning for the dynamic workplace: part two
As the world continues to navigate the uncertainties of COVID-19, a new, dynamic workplace has emerged. The dynamic workplace will need to be accessible, but not open, efficient, but not crowded; connected, but not siloed.
In our last post about the dynamic workplace, we shared how facility managers can prepare their employees and office.
In this post, we're looking at what facilities managers can do to effectively plan for the transition to the dynamic workplace and which specific tools will streamline the process.
How facility managers can plan for a dynamic workplace
As a facility manager, you're at the forefront of significant changes in the workplace. It's your responsibility to adapt your workplace to fit the needs of your employees and your company.
Let's look at how facility managers can best plan for the dynamic workplace.
Plan effectively
When thinking about how your current office needs to change to accommodate a more dynamic workplace, it's important to approach your plan from all angles. 
Investing in technology that is already dynamic by design can be a significant help when transitioning the office. Software built to help you think dynamically will ensure you create the best plan for your company. 
When looking for facility planning software that can serve this purpose, consider the following questions:
Can you easily see the right real estate footprint you need?
How will you adapt your space and seating accordingly?
Do you have the tools to keep your employees engaged and connected to the workplace during this change?
What is the best way to bring people back into the office?
How can you keep everyone safely distanced and maximize seating capacity?
What areas of the office need to/can be reconfigured to accommodate these changes? 
It's important to select software that accounts for the different in-office variables of the dynamic workplace, like space, occupancy, and physical distancing, as well as the connectivity variables outside of the office like communication, productivity, and more.
OfficeSpace offers unique workplace planning tools that make planning for a dynamic office environment much easier and productive:
Flexible seating: Easily set up combinations of seating arrangements per safety requirements, control how desks are used, and limit which desks are available for employees to book. 

Distancing planner

: Build safe, physically distant seating plans in seconds.

Shifts

: Organize employees by the group and deploy shift schedules quickly and efficiently.

Scenarios

: Not sure which floor plan will work best for your team? Scenarios help you see the different possibilities, so you feel confident rolling out the best option the first time around.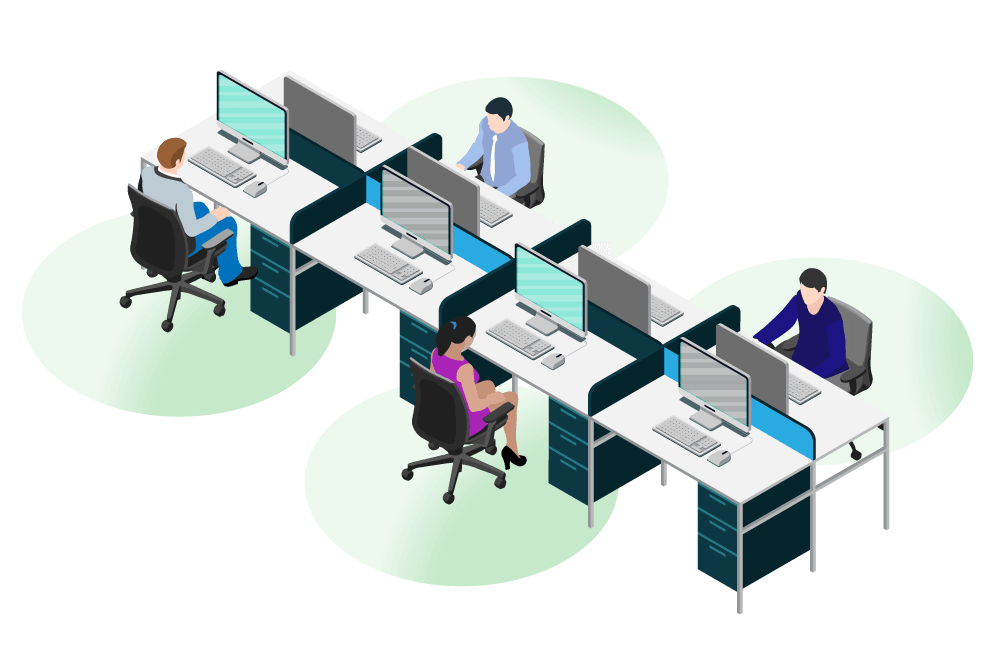 Implement easily
Planning is one thing, but figuring out the logistics of implementing your plan is another. Communication is a core element of successful dynamic workplace implementation, and therefore it should become a priority for the facilities team.
After all, there are bound to be questions from employees as you make changes to the workplace, such as:
How will you communicate every change to employees?
How will you make sure employees feel safe returning to the office?
How will you communicate changes within the workplace, such as hand sanitizer locations or desk availability?
Creating a communication plan that gives you the flexibility to make changes as needed while keeping employees informed will be critical. OfficeSpace offers several features that make communicating workplace changes to employees easy and effective. 
Understand clearly
When it comes to the safety and security of your employees, there's no room for error. Planning for a dynamic workplace as quickly as possible without cutting corners is vital to keeping everyone healthy and productive.
It's essential to use software that not only makes implementing your dynamic workplace plan easy, but that helps you understand the impact it's having on your company with data-driven insights.
The right software will help you answer questions like:
How do you know if your return to office plans are working?
How can you get the whole picture of what's working in one place?
What needs to be adjusted to make your plan better?
With OfficeSpace, you can easily see what's working and what isn't all in one place with features like:
Check-in: This feature helps facility managers see how desks and rooms are being used in real-time.
Badge integration: Have a pulse on building usage at all times, which not only brings peace of mind but can help with contact tracing if need be. 

Reporting & analytics

: Make smarter decisions with data and insights catered to your building and employees' needs.
Adapt quickly
Because circumstances with COVID-19 are continually changing, it's crucial to implement a dynamic workplace plan that is not only tailored to your company, but that is easily adaptable. 
The core of a dynamic workplace is the ability to be adaptive when necessary. That's why it's critical to have the right tools to help you adapt your strategy for the long-term and keep employees healthy and engaged. 
Using technology that can help you determine what changes need to be made to the workplace based on your company's needs will not only make adjustments smoother, but it will help employees understand and adapt as well.
OfficeSpace provides facility managers with the tools you need to stay agile. Our suite of tools was designed to help you be flexible as circumstances with COVID-19 continue to evolve.
What to look for in dynamic workplace planning software
You understand the importance of leveraging the right technology to execute a dynamic workplace plan, but what exactly should you look for in a tool?
We've touched on some of the features OfficeSpace offers that make planning and implementing a dynamic workplace easier. Let's look at some of those features in more detail.
Forecasting Reports
Occupational data has always been a critical part of any facility manager's job. Now, in the age of COVID-19, it's essential information that helps keep employees safe and healthy.
Forecasting reports help real estate directors make the most educated decisions around how to adjust the workplace in the long-run. Consider opting for software that gives you the ability to run real-time reports when you need them. 
OfficeSpace users have access to valuable occupational data at their fingertips, so there's no need to guess when reconfiguring the office or rearranging employee shift schedules. For example, with OfficeSpace, FMs can see things like where real estate budget is being wasted, all from one intuitive dashboard.
Stack Plans
Being able to rearrange plans whenever you need to is a core element of a dynamic workplace. The reality is, it may take a few combinations to arrive on a plan that works best for your company. 
Choosing a facility planning tool that allows you to see how different configurations look before rolling them out means less confusion to your team and more time working safely and productively. 
With OfficeSpace, workplace leaders can visualize and reorganize teams and departments with just a few clicks. Need to move an entire department to a different floor or see which teams are split across other buildings? OfficeSpace makes it easy to envision—and create—a flexible office.  
Visual Directory
Seeing your entire floor plan in one comprehensive view that all employees can access makes reconfiguring the office and communicating changes much more streamlined. It's more important than ever to be able to visualize your office floor plan and see how things are configured, like desks, rooms, and shared spaces.
OfficeSpace's Visual Directory® gives both FMs and employees access to a building's floor plan in real-time. That way, there's never a question about what desk is available, if employees are placed too close together, or where the nearest hand sanitizer station is located.
With a visual directory tool, FMs and employees alike can do the following:
Access the office floor plan from any device
Book rooms or desks in a few clicks
Locate resources like printers, medical equipment, hand sanitizer stations, and more
Space Management
Having a pulse on how your space is being used at any given time is vital to creating a dynamic workplace that keeps everyone safe.
The right facilities management tool will help you do things like:
Understand occupancy and space utilization within your existing space
Leverage data and real-time reports to make the best use of your space
Streamline department/team moves
Keep employees safe and within health restrictions 
Plus, with a reduced number of people in the office at any given time, there may be more cost-effective ways to use the extra space. Or you could decide that downsizing your office is the best idea for your company.
A dynamic workforce is the future of how companies operate
There are several options to consider when planning for a dynamic workplace. That's why using a facilities management planning software designed for this new workplace model can be so helpful. 
Interested in learning more about how OfficeSpace can help you create a plan for the hybrid workplace? Request a demo today.
Photos: Matthew Henry, Headway, krakenimages, OSS