Space & Move Management
How to improve your workplace with space management software
Proper space management is a critical part of creating a productive, efficient work environment. As the modern workforce continues to evolve, so too must facilities professionals' ability to analyze and optimize their spaces.
But what's the best way for facility managers (FMs) to approach space management?
This article explores what space management is and how FMs can leverage space management software to supercharge their planning and implementation.
What is space management
Space management is the optimizing and planning of a facility to ensure maximum efficiency, cost-effectiveness, and productivity for employees. However, proper space management involves maintaining several variables to achieve your ideal work environment.
That's where space management software comes into play.
With software (like OfficeSpace Software!), you can easily get a handle on your dynamic facility in one place. Here are just a few of the benefits of using a space management platform:
Track and manage your entire space and make smarter, data-backed decisions, all from a single hub
Visualize occupancy and space utilization on real-time floor plan views
Make informed space utilization decisions with fully customized reports
Plan complex moves without second-guessing using floor plan scenarios
Understand how your space is being used and identify areas of improvement
Let's look at some of the main features of space management software that help facility professionals optimize their space(s).
Visual Directory
A visual directory is an interactive facilities planning tool that gives facility managers the ability to oversee floor plans in one comprehensive dashboard. Think of it as a quick way to find what you're looking for—whether it's people, office resources like printers or hand sanitizing stations, or meeting rooms.
With a visual directory tool, facility managers enjoy benefits like:
Identify and book rooms or desks in a few clicks
Manage facility service requests
Pinpoint company resources like printers, medical safety equipment, available meeting rooms, and more
View your company's entire floor plan in one comprehensive tool
Plus, OfficeSpace users can access their visual directory on both mobile and desktop browsers as well as through the OfficeSpace iOS app.
Visual Directory tools serve various purposes for facility professionals, but they can also be used when collaborating/working with other departments.
For example, suppose your HR team is looking for ways to better onboard new employees. In that case, a visual directory tool could be great for helping them learn the layout of the office as well as booking meeting rooms, locating common spaces, and more.
Space utilization features
Space utilization means using and optimizing your office space to the best of its capabilities. Facility managers are constantly looking for ways to better use their offices, and space utilization tools help make that possible.
There are many benefits of making space utilization features a primary part of your day-to-day operations:
View your space in real time
Make data-backed decisions regarding your space with concurrent reports and analytics
Design various floor plan options to ensure you're selecting the best option for your company
Understand and maintain your seating data with editable seating management reports
Space utilization software is an essential part of any facility managers' toolbox. Suppose you're considering reconfiguring one of your office floor plans, for example. In that case, space utilization software can help you determine the best possible floor plan arrangement to meet your needs—like if you're trying to figure out how best to arrange your furniture/desks if you're implementing a hybrid workforce model post-COVID-19.
Room booking and desk bookings
Room booking and desk booking technology allow employees to reserve spaces to host meetings or work from while they're in the office. Meeting room bookings or desk bookings can be made ahead of time, before entering the office, so employees can secure a space to work they know is safe and meant for only them. This can ease any anxiety employees may have about returning to the office.
There are several benefits to room and desk booking technology:
Streamline the room and desk booking process for all employees, no matter the workstyle your company implements
Understand which rooms and desks are available in real-time—no more double-booking!
Find and reserve available rooms and desks from Slack
Maintain a consistent cleaning schedule based on occupancy reports
Simplifying your conference room scheduling process is not only an easy way to make your office more productive, but it's a great tool to have when rolling out a new workforce model.
For example, if your company is shifting to a hybrid workforce model and allowing 50% of employees back in the office at a time, desk and room booking software let employees reserve spaces with confidence before stepping foot in the office. This way, employees can count on a dedicated station to work at while they're in the office.
Stack planning
Stack planning is a facility management technique used to improve space utilization, reorganize departments and floor plans, configure seating arrangements, and more. This space management method is highly effective when understanding how your office is currently structured and where improvements could be made.
With a stack planning tool, facility managers can do several things like:
See a high-level view of their floor plans and where each department is located
Drag-and-drop teams and departments from one floor or building to another
Understand which teams and departments are spread across your buildings
Develop stack plans that scale with your growth
For example, if you're trying to condense where your departments are located, stack planning is an effective way to see your teams' current layout and help you figure out the next best move.
Reports and Analytics
Reports and analytics are the lifeblood of any facility manager's decision-making and planning capabilities. Without hard numbers and data, it's difficult to make decisions that use your space to the best of its capacity.
A space management tool with robust reports and analytics features offers several benefits, like:
Understanding how your space is being used as it is currently
Use operational reports to streamline facility management processes and maintain data hygiene
View up-to-date asset and attribute-related reports
Produce robust reports that detail how your space is being used
Combine real estate costs with occupancy and headcount metrics to build benchmarks for your global portfolio
Reports and analytics are a critical part of impactful facility management. Facility professionals could use reporting and analytics for several reasons—from creating a new floor plan to making a case for additional budgeting around a larger office space.
Safety features
Safety is always a priority for facility professionals, but with COVID-19, the need for safe and sanitized workspaces is even more important. Space management software with built-in safety features like health screens, distancing planner, and more ensures your company is operating as safely as possible at all times.
Built-in safety features help facility professionals in various ways, including:
Understanding the health of your employees at all times
Preventing the spread of COVID-19 or other viruses/diseases in your office
Keeping employees distanced from one another while in the office
Tracking seating capacity in real-time and understand the impact of different spacing configurations
Preventing employees from checking into their desk bookings until they pass their Safeguard check
Safety features like Distancing Planner and Safeguard ensure your office is a safe space for your employees to do their best work while eliminating the need to shut down your office due to an outbreak or possible health-risk situation.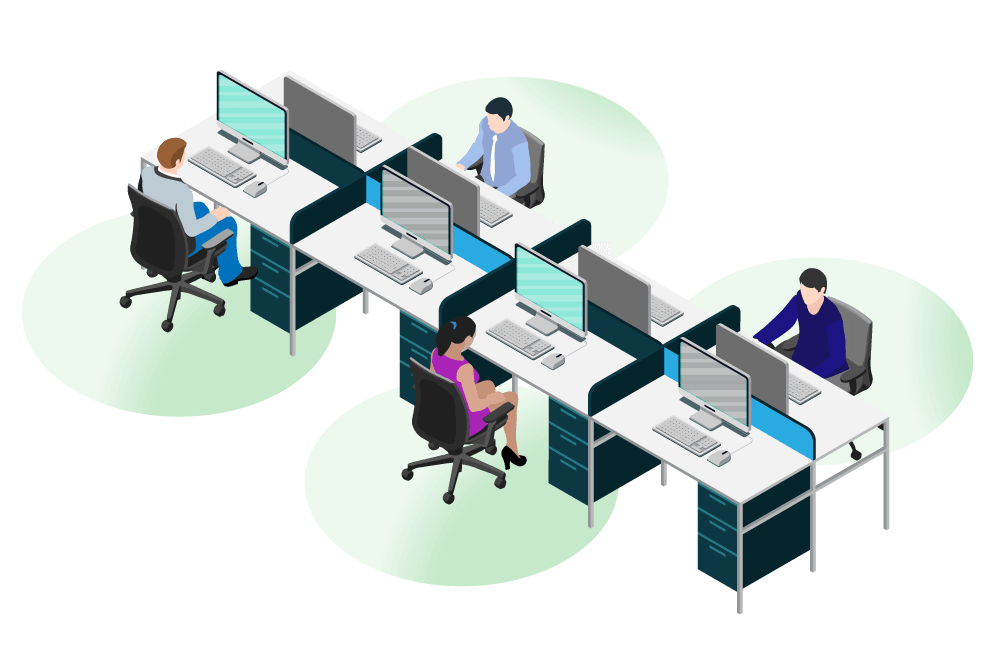 Improve your space management with software
Space management software is a critical part of any facility manager's day-to-day operations and long-term efficacy. With so many variables to oversee, space management software helps facilities professionals keep everything organized.
Different space management tools serve different purposes, but together, they help FMs build smarter workplaces.
Want to see how your organization could benefit from a comprehensive space management solution? Learn more about OfficeSpace's suite of facilities management tools and schedule a free demo.
Photos: ThisIsEngineering, Andrea Piacquadio, Ono Kosuki, OSS